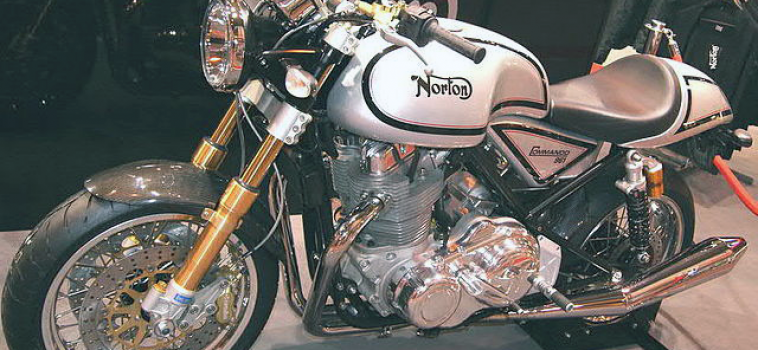 Motorcycle maker revs up growth plans with £4m
(headline story via Insider Media)
Some great news yesterday from Norton! More jobs for Derbyshire, perhaps as many as 600, including 200 apprentices. The wheel could be turning full circle if you forgive the pun.
Go back 40-50 years, watch a 60's/70's British movie and you'll see Triumph Bonnevilles, Austin 1100/1300s & Allegros, BSA Bantams, Rover 2000s, Triumph Stags, TR6+7s and Spitfires, Austin-Healeys, MGB and MG Midget, Riley 1.5 and Wolseley Hornet, Humber Hawk, Hillman Hunter, Morris Marinas, Sunbeam Tiger, the Prime Minister in his chauffeur driven Rover 3500V8 … and the police doing motorway patrols on Norton Commandos and in Rover SD1s.
Where are these marques now? With the exception of Triumph motor bikes (which is great but effectively an assembly screw driver operation) sadly all are effectively dead. Now, not all of these were gems (the ghastly Marina in particular) but they all sold well on the home market and many were exported in big numbers.
Now fast forward to the 90's and you could be looking at adding a few more marques to this death list:
Mini
Jaguar
Land Rover
Range Rover
Bentley
Rolls Royce
These were rescued by foreign manufacturers: BMW, Ford, VW, Tata. Why did they bother?
They clearly had some vision and management capability to fully comprehend the UK's illustrious heritage in pioneering design, engineering and manufacturing.
So what are the 5 golden rules we can learn from the major turnarounds for the 6 marques above?
1) Do the research (and study lessons from the history above) to fully understand the customer's requirements 5-10 years ahead.
2) Take a look at BMW, Mercedes, Audi and lets also include consumer goods champ Dyson, to 'get' the importance of branding and after care, as well as the obvious styling cues, design and marketing. The whole 'package' has to be compelling, sexy and desirable to impress both you and the neighbours!
3) Do the detail in the engineering and pre production endurance, rig testing and design for manufacture to guarantee top quality finished cars and bikes are launched 'right first time'.
4) Ensure it's a government national priority that the supply chain of 'Brittelstand' mid market companies and SME's to our manufacturers get help and advice in best practice. They need as much attention to their quality of management, engineering and apprenticeship numbers as the eventual vehicle or bike assembler.
And finally….
5) Invest and educate your PEOPLE from STEM training in schools to fully utilising the resources in our many excellent Colleges and Universities. The facilities, processes and automation are of course crucial, but utterly useless with poorly educated, untrained, un motivated people. It's essential to have technical strength in depth across all aspects (and ages) of the organisation.
All the luck in the world to Norton, maybe we'll see them once more on Police patrol duties. But can you pull over the other guy next time please!